Tag Archives:
roc a fella
Continuing yesterday's conversation about the value of record deals, here's a great article by Chris Lee on the L.A Times Music Blog about the mechanics of Drake's deal.
The video is here.
Ash Roth decided to do a video for the mixtape joint, Roth Boys, and you'll never guess who showed up
Check it out below and make sure to grab the embed code to post it on your site/blog/myspace.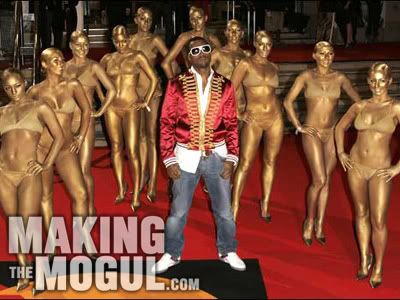 Note: I get a little side-tracked in this post, but it all comes together, I promise.
Have you ever felt connected to and genuinely proud of an artist's success because you were a fan of theirs before they became major celebrities? You somehow believe you were a part of the movement, even if you were no more than a mere observer.
I have.
I've been a fan of many artists before they became stars. As they moved ahead in their careers, I became proud of each of their accomplishments as if I played a role in it. One person in particular is Kanye West.
*Okay, so I didn't really "discover" Kanye, but you get the point.
The first time I heard the name Kanye West was back in 1999. At this point in my life, I had formed this little group of local artists; 2 rappers and 1 singer. I wasn't rapping or singing though; I was the "producer/manager".
We were working on a couple tracks and I started searching online for other artists and producers to collaborate with. I heard this one R&B joint that I thought was bananas. I checked out the rest of the webpage (this was before everybody had their own websites and the people who actually were online had webpages hosted on GeoCities – remember that?), and found out it was from a small R&B group in Chicago. Their contact info at the bottom of the page led me to their producer.
I didn't know what I wanted to do with that song really; I just knew that it was hot and that I wanted it. So, I contacted the producer and told him I wanted to do a remix of it featuring my group. We spoke for a while and he ended up sending me about 5 CDs full of beats. From all those beats, only a small selection were good and I decided to take 3 of them. (I still have those CDs actually. I just checked).
This was during the time when the bedroom producer was really beginning to take reign and the indie game was over-saturated with corny sounding Fruity Loops beats (I'm guilty of that too). This producer's main pitch was that he wasn't using Fruity Loops, but actually playing it out on his Triton. Every beatmaker and their mama was about the Triton back then. If you weren't using it, then you weren't really serious.
Anyways, after that we ended up speaking on a regular. One day he started telling me how he first got into producing:
"My mentor is Kanye West. You ever heard of him? He works with some big names now. That's my dude. He taught me to play the keys in our church group. Check him out, that's my mentor."
He would mention "Kanye West" every chance he had. I remember asking him about these vocal samples he had in a beat I wanted to buy:
"Don't worry about those samples. Kanye West doesn't clear them unless it's for a big artist with big budget. He told me it's cool if it's just for a smaller artist who doesn't get much airplay. They'll only catch you if your song gets real big, but by then you should have the money to clear the sample anyways right?"
Whether this guy was for real or not, I kept seeing Kanye's name pop up after that – magazines, cd & mixtape credits, online forums, etc.
"Isn't this the guy homie kept telling me about? Hmm.. dude's moving up."
When Jay-Z dropped the Kanye-produced, "Izzo (H.O.V.A)", I felt this weird sense of pride as if it was someone within my crew. I told everybody I knew about it and spoke about it like it was something we should all be proud of.
It continued like that for a while.
A few years later, I was watching RapCity with Big Tigger and they aired Kanye's first video, "Through The Wire".
"Dude's a rapper now?? This joint is siccck. Playa is on point!"
I was all about it. I kept telling people about it like I was making commission.
I guess the label thought it wasn't getting the type of buzz they needed because the record and video disappeared like it was never even serviced. No mention of it, no traces of it.. nothing.
It re-appeared a few months later and this time, it got major push. Now, the label was fully behind it and talking about an upcoming album. Now everybody knew his name and was all about it.
The Kanye-frenzy began and it wasn't my little secret anymore.
Coincidentally, I had just began working at the label when "College Dropout" was released and although it was a different division that was responsible for marketing the record, I kept a close eye on the project as if I was protecting my own investment.
The record dropped and the frenzy began. The first tour was damn near sold-out, if not sold-out, in every city. (Side note: John Legend performed a private after-party that night at a tiny africana-jazz bar near my apartment with a maximum capacity of 100 people . One of my favourite music memories, by far.)
The rest is pretty much history.
Now, Kanye's the biggest name in the game and has everybody waiting on his next word. But even so, as an early supporter, I still kinda have that sense of familiarity with him and feel like I played a role in his success in some weird way… do you know what I mean?
I guess my point is; everybody has experiences like this – so keep this in mind with your own career. Connecting with your fans early on, will not only make them feel more connected to you – but can also help propel your career to new levels.